Occupational safety is the top priority for WDR
EQOS Energie calibrates and updates the electromagnetic exposure areas on 17 of WDR's antenna masts
In order to provide local radio and television broadcasts across all of North Rhine-Westphalia, Westdeutscher Rundfunk (WDR), Europe's second largest media company under public law, operates a large number of antenna masts. As part of the company's own safety policy, the exposure areas of these masts are examined regularly, both during normal operations and when they need to be switched off for inspections. The resulting values of the measured electromagnetic radiation are shown on a so-called Climb and Rescue Plan affixed to the mast. EQOS Energie now performs the validation of the previously measured results and makes updates to the plans at 17 sites for WDR.
The work for WDR is part of accident prevention regulation DGUV 15, which stipulates occupational safety provisions for areas with electrical, magnetic or electromagnetic fields. Companies must ensure compliance with threshold values in these locations or initiate measures to prevent excessive values which are prohibited. The corresponding labelling and delimitation of these areas is also part of this regulation.
Portfolio expansion in communications technology
These electromagnetic radiation measurements for WDR are the first of their kind for EQOS Energie. Convincing arguments that spoke in favor of the infrastructure service provider to be the company to execute this work included not only their readiness to purchase new devices for the first-time technical execution but also the excellent training of the metrologists. This training involves climbing classes and the G41 qualification with certification for "work involving the risk of falling." Another plus was the highly qualified internal planning department, which provides active support during the evaluations. "The work is already fully underway and going completely according to plan," said Jens Lenk, head of the Communications Technology business unit. "We are delighted that we were able to add another area of responsibility to our Communications Technology unit with this award and further round out our service offerings."
Special probes to identify electromagnetic fields
During the first step, EQOS Energie performs initial calibration of the exposure areas on site, primarily through the use of a so-called E-field probe. This device allows the pointwise measurement of electromagnetic fields. When approaching the frequency-dependent threshold values such as in the close surroundings of the antenna, an H-field probe is also used. Subsequently, the data recorded by EQOS Energie are evaluated and processed at the office. When the corresponding plans are produced, the information and warning signs are mounted on the masts in question. This also involves labelling of transitional areas at adjacent traffic routes. As much as possible, the work of the three-member team takes place during ongoing broadcast operations and any switch-off times required for measurements during the "Necessary switch-off for inspection" are kept to a minimum.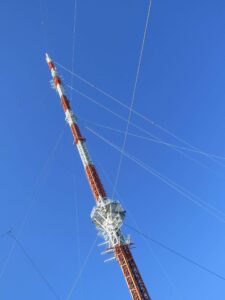 Photo: WDR