The modernisation of the power grid as part of the energy transformation requires new construction of a 180-kilometre line for Amprion GmbH
Amprion GmbH, one of the four transmission system operators of the extra-high-voltage grid in Germany, has commissioned EQOS Energie with the new construction of one section of the 380-kV line between Wesel (North Rhine-Westphalia) and Dörpen (Lower Saxony). Overall, the line to be modernised is 180 kilometres long, 16.8 kilometres of which will be realised by EQOS Energie. This measure is a result of the German Power Line Development Act (EnLAG), which was passed as part of the energy transformation and provides for the necessary network remodelling and expansion. Expanding and remodelling the extra-high-voltage lines requires an equally strong commitment on the part of the transmission system operators and the companies executing the work, such as EQOS Energie.
Structured planning accompanies the comprehensive work
Since the project start in January 2021, the connection between Wesel and Dörpen will be constructed predominantly as an overhead line As a result, the upcoming tasks of the infrastructure service provider include foundations with bored piles and the corresponding pre-assembly and erection of the masts as well as the installation of the wire rope hoists. This project utilizes an existing 220-kV line for the upcoming work, which will ultimately be replaced by the new line. "In 2021, we will be primarily concerned with the foundation work," Mario Kraatz, head of the executing profit centre from the Overhead Line Construction division, said about the current schedule. "Around mid-year, our team will also start erecting the masts." A total of 47 masts will be erected in this phase of construction which will end in the summer of 2023. The wire installation between those masts is scheduled to start next year. Currently, about 3,500 tonnes of steel and approximately 200 cable drums have been estimated for the project.
Special precautions for working in a water protection area
One section of the awarded commission requires special attention: "Mast area 198 to 202 is located near the Haddorf lakes and is therefore part of a water protection area," Kraatz said. "Naturally, this requires our team to be particularly diligent. Since this is a habitat for otters and lapwings, they must be protected from the construction work." In order to ensure the animals' habitat is not jeopardized, the construction project receives ecological support. This also means that compliance with various regulations and stringent requirements is necessary: During the two-year project, EQOS Energie uses e.g. biologically degradable oil and must take into account specific exclusion periods during which construction cannot take place. Among others, this means that nesting and breeding periods of the protected species in residence must be observed and the amount of construction activity must be adjusted accordingly.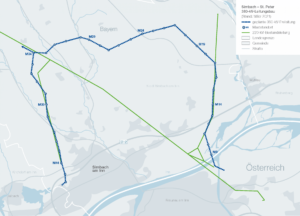 graphics: TenneT TSO GmbH